The Children of Hurin Release Party (24.03.07 by Pieter Collier) - Comments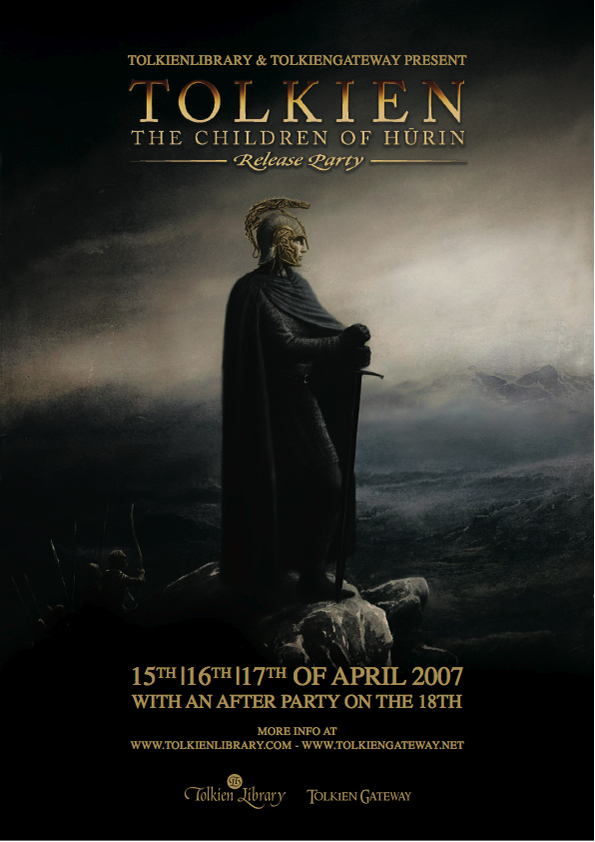 The Children of Húrin Release Party
is an online event which will take place around the release date of
The Children of Húrin
, the new book by J.R.R. Tolkien, due for worldwide release on Tuesday 17th April 2007.
The release party will take place online at
irc.tolkiengateway.net
for three days in a row on April 15th, 16th and 17th 2007, and is being organized by
TolkienLibrary.com
and
TolkienGateway.net
. There will be an after party on April 18th.
Next to chatting there will be numerous games, competitions, giveaways and Q&A's with special guests like David Brawn, James Dunning, Jef Murray, Johan Vanhecke, John Garth, Mark T. Hooker, Matt Blessing, Michael Drout, Michaël Duveaux, Nils Ivar Agøy, Roger Garland, Verlyn Flieger, ...
The Children of Hurin Online Release Party Event
SUPPORT THE EVENT:

The best way to support is of course to join in and come and celebrate with us. Another way to support this event is to spread the news! Tell your friends about this event and if you have a website add some banner to links to us or add a wallpaper image on your desktop.
DOWNLOADS:

Download the press document of the event here.

300x35



300x70



400x68



730x82



1024x768



1280x800

Spread the news about this J.R.R. Tolkien article: