The Children of Hurin Super Deluxe and Paperback (Last updated 30.10.07 by Pieter Collier) - Comments
New Editions of The Children of Hurin: Super Deluxe and Paperback
The Children of Hurin was the first complete standalone Middle-earth book by J.R.R. Tolkien since The Hobbit and The Lord of the Rings.

It now has become an international #1 bestseller in hardback, with over 1,000,000 copies sold in English.

Today I can announce two new editions of The Children of Hurin. One is for the serious Tolkien collectors and one for the mass market.

The first can be called a Super Deluxe Edition, since the price for this edition is extremely high, it will be the perfect deluxe edition, signed by Editor and Illustrator and limited to 500 copies only.

The second will be the paperback edition which can be bought by all and shows a slight variation in the Alan Lee cover.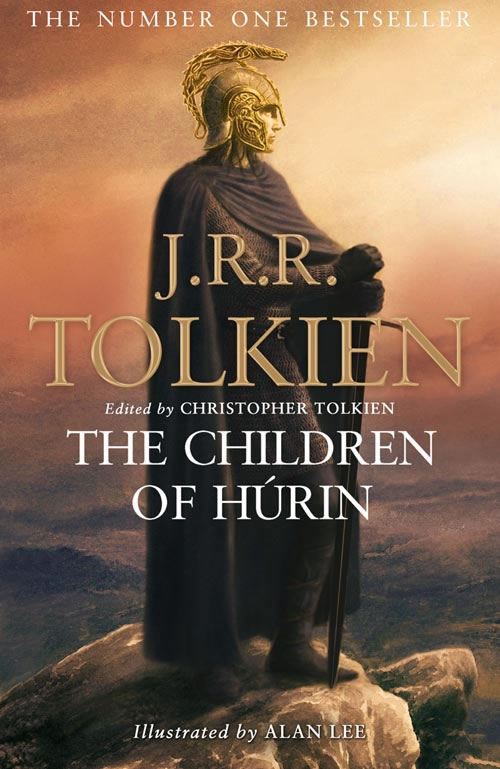 Here is all info I could find about the Super Deluxe The Children of Hurin:

This edition is strictly limited to 500 copies and will be numbered and signed by Christopher Tolkien and Alan Lee. Fully bound in leather, slipcased, and including a number of features unique to this printing, this luxurious commemorative edition is not available in shops. [EDIT: it is now listed at amazon.co.uk, but not yet available for pre-order] Once I have more info on where it will be available, be sure to read it first here!

[EDIT: While Amazon listed the Super Deluxe Edition, Harper Collins has no intention to sell this exclusive book through Amazon. Amazon took a data feed from the Harper Collins system and automatically listed everything, even this exclusive edition.

I will announce where this edition will be for sale real soon.

In the mean time I have some new information on the edition itself:
The signed leatherbound edition of The Children of Hurin is limited to 500 numbered copies and has been signed by Christopher Tolkien and Alan Lee (in the book, not on bookplates). ]
Publication Date: 10/12/2007 (UK)
Price: £300.00 (UK)
Binding: Hardback

ISBN: 978-0-00-725224-4
Extent (approx.): 320 pages

Imprint: HarperCollins
Rights: OM
Division: HarperFiction
Here is the info I have found about the Paperback The Children of Hurin version so far:

This edition is already available for pre-order. The cover for this edition can be found above.
Publication Date:
07/04/2008 (UK)
01/04/2008 (NZ)
01/04/2008 (AU)

Price (Estimate):
£7.99 (UK)
$17,95 (CA)
$20.99 (AU)

Binding: Paperback
ISBN-10: 0-00-725226-9
ISBN-13: 978-0-00-725226-8
Extent (approx.): 336 pages


Spread the news about this J.R.R. Tolkien article: