Rick Wakeman to Play at Festival in the Shire (02.07.10 by Pieter Collier) - Comments

Festival in the Shire just announced the main music performance on Sunday evening will be Rick Wakeman. Guess a lot of older Tolkien fans are going to be very happy!
Rick Wakeman, who is widely considered to be one of the greatest all time rock keyboardists, is well known for his keyboard work with both
Yes
and
The Strawbs
. He is equally at home on the grand piano and has featured on this instrument on numerous recordings including that of Cat Stevens' Morning Has Broken and
the Hunky Dory album by David Bowie
.
He's written more than 20 soundtracks, and is constantly in demand for television appearances such as Top Gear, Grumpy Old Men, Countdown and The One Show to name but a few.
He is a known admirer of tolkien's work and indeed presented a twenty minute special for the BBC on Tolkien a few years back which was highly acclaimed. On Warner's
J.R.R. Tolkien - Master of the Rings - The Definitive Guide to the World of the Rings
, Rick Wakeman was even called a 'Tolkien expert'. I even believe when you bought this DVD back in 2001, it came together with a CD by Rick Wakeman. But I might be wrong...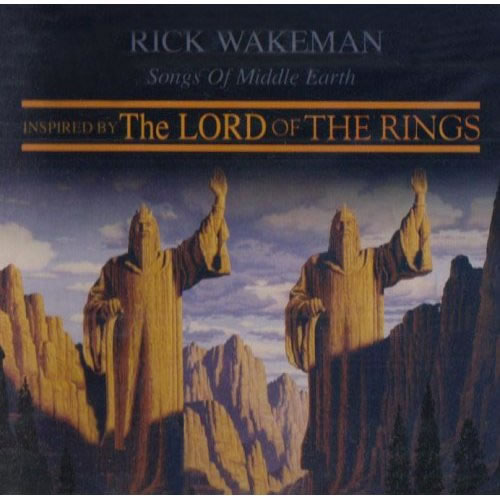 Festival in the Shire

Rick Wakeman has said of Festival in the Shire, "I very much look forward to being a part of the festival and learning more about the uniqueness of Tolkien and his work. I'm genuinely a big admirer of Tolkien".

Pontrhydfendigaid (known locally as 'Bont') is to host a new and exciting international festival this year. Festival in the Shire is a celebration of the life and works of the author J.R.R. Tolkien: creator of Middle-earth, The Lord of the Rings and The Hobbit.

Festival in the Shire comprises of an academic conference, fan event and summer fair celebrating themes inspired by J.R.R. Tolkien and fantasy in general. By holding three separate events this three-day festival has something to offer everyone. The conference will cater for serious Tolkien fans, and the fan exposition and general festival will appeal not only to casual fans but also to families, children and adults of all ages.
The Festival: For more casual fans, families and anyone looking for a fun day out, the festival component of Festival in the Shire offers a daily programme of Tolkien inspired entertainment as well as a large fair with arts, crafts and food. Rick Wakeman is headlining our diverse and exciting musical line up which will run throughout the entire weekend. The entertainment will also include talks, Tolkien inspired re-enactments, storytelling and other performance art, music and a myriad of fantasy related events. Many local and international vendors and artists will participate in the entertainment and festival. The organisers would be delighted to hear from anyone interested in taking part.
The Fan Expo: In addition to its own speaker program, keen collectors of tolkien's books, collectibles and Tolkien inspired art will be delighted at the fan exhibition aspect of the festival. In addition to paintings on exhibition and for sale, some of the Tolkien inspired artists will be present and attendees will have the opportunity to meet them.

Artists exhibiting include Rodney Matthews, Paul Raymond Gregory, Roger Garland, Ruth Lacon, Stephen Walsh, Sue Wookey and Ivan Cavini.
The Conference: Tolkien literature enthusiasts will have the opportunity to delve deeper into tolkien's work with a three-day academic conference entitled 'Welsh influences on the works of J.R.R. Tolkien'.

This will feature internationally respected Tolkien experts such as Tom Shippey, Colin Duriez, John Garth, Corey Olsen, Alex Lewis, Colin Manlove and Verlyn Flieger.
Rick Wakeman: Songs of Middle Earth (Inspired by Lord of the Rings)

Thanks to the release of the massive Lord of the Rings movie cycle and the love for Tolkien by Rick Wakeman, BMG appropriated material from Rick Wakeman's Heritage Suite and Seven Wonders of the World recordings, retitled the songs based on various names and places in tolkien's novels, and repackaged this CD to appear as if Wakeman spent time toiling away in his studio to work on a tribute album. This illusion is passed off successfully for casual listeners, but die-hard fans may already own most of this material. Nevertheless, the production here is exactly what you would expect from a Wakeman record: crisp, clean production with technical wizardry and musical acrobatics abound.

While Tolkien fans may find this a curious release to pick up, loyalists might want to consider sitting this one out. If you are new to Rick Wakeman, it is however worthwile to listen to! The only comment I have on the CD, is that the title should be "songs of Middle-earth" and not "Middle Earth", but then again I'm probably too much of a Tolkien purist! :)

Title:

Songs of Middle Earth


Artist:
Rick Wakeman


Label:
BMG

Release Date:
23 July 2002

Spread the news about this J.R.R. Tolkien article: