Tolkien Calendar 2014 will be illustrated by Jemina Catlin (22.05.13 by Pieter Collier) - Comments

It is always exciting to see what the next Tolkien calendar will be like. Last year we got a
The Hobbit calendar
containing new and classic artwork by Oscar-winning artists Alan Lee and John Howe. The two years before that we saw that the
calendar featured the art by Cor Blok
. It seems now we will once again have a Hobbit themed calendar but with a rather unknown illustrator.
The Official Tolkien Calendar 2014 features 14 illustrations by Jemina Catlin.
Jemina who? Well that is exactly what I was thinking. Still the cover looks fantastic and something different from what we are used to see. Yes! A new and fresh artist / illustrator receives a chance to show a different view on the famous tale of Bilbo. I can only be happy with that!
Next to that there will be released a beautiful gift edition of J.R.R. tolkien's enchanting tale
The Hobbit
, fully illustrated by Jemima Catlin. A deluxe version is also being released (or so say the rumors - and Amazon ;) ).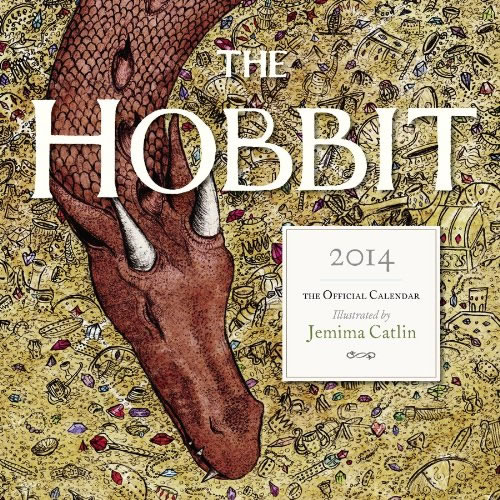 Jemina Catlin - a fresh look on the red book: there and back again

The official Tolkien calendar has become an established publishing event, eagerly anticipated by Tolkien fans the world over. Previous Tolkien calendars have become much sought after collector's items, and in the year of Peter Jackson's film adaptation of The Hobbit, the publishers have decided to bring an answer to his version by releasing an illustrated edition of the book by Jemina Catlin. As is usual, the release will be supported by also putting the art into the official Tolkien Calendar.

Jemima Catlin (born in 1986) grew up in Dorset and developed a passion for drawing at an early age. She graduated from the Arts University College at Bournemouth with a Foundation Degree in Visual Communication and then went on to complete a BA Honours Degree in Illustration in 2010. After leaving university she became a freelance illustrator, working on some personal projects and undertaking several commissions before embarking on the exciting journey of illustrating The Hobbit.

I'm going to be pre-ordering this calendar for sure! This year is going to be so exciting!!

Title:

Tolkien Official Calendar 2014: The Hobbit


Illustrator:
Jemima Catlin

Publisher:
HarperCollins
Publication Date:
September 12, 2013

Type:
calendar
ISBN-10:
0007500262
ISBN-13:
978-0007500260
Title:

The Hobbit, fully illustrated gift edition


Illustrator:
Jemima Catlin

Publisher:
HarperCollins
Publication Date:
September 12, 2013

Type:
hardcover, 320 pages
ISBN-10:
0007497903
ISBN-13:
978-0007497904
Title:

The Hobbit, fully illustrated deluxe edition


Illustrator:
Jemima Catlin

Publisher:
HarperCollins

Publication Date:
September 12, 2013

Type:
hardcover, 320 pages
ISBN-10:
0007497911
ISBN-13:
978-0007497911

Spread the news about this J.R.R. Tolkien article: