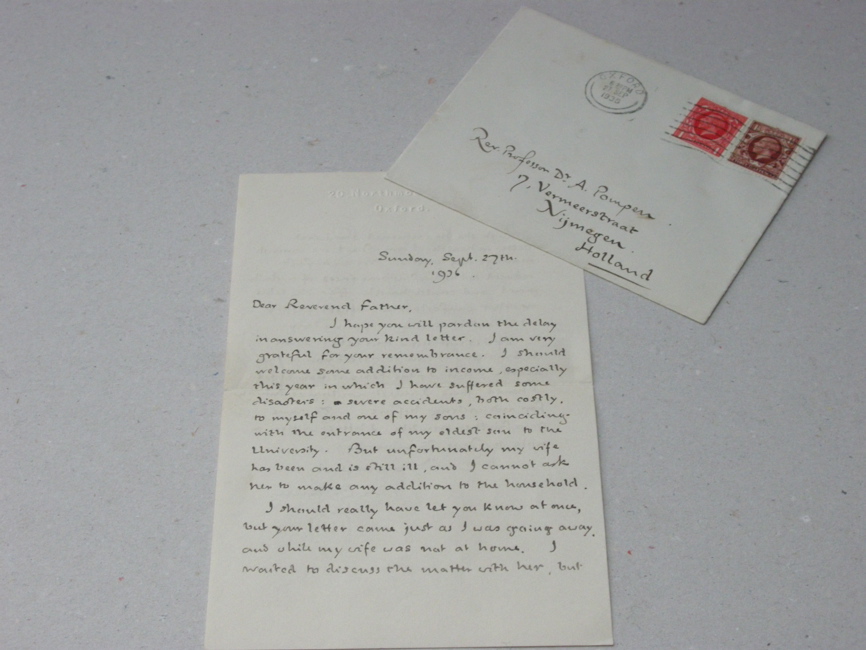 We present a J.R.R. Tolkien autograph letter signed "J.R.R. Tolkien" to Rev. Professor Dr. A. Pompen, Professor of English at the Catholic University of Nijmegen.
It is personal letter to Reverend Professeor Aurelius Pompen, which Tolkien seemed to know very well.
This is what is written in the letter:
"I hope you will pardon the delay in answering your kind letter. I am very grateful for you remembrance. I should welcome some addition to income, especially this year in which I have suffered some disasters: severe accidents, both costly to myself and one of my sons: coinciding with the entrance of my eldest son to the University. But unfortunately my wife has been and is still ill, and I cannot ask her to make any addition to the household.
I should really have let you know at once, but your letter came just as I was going away and while my wife was not at home. I wanted to discuss the matter with her, but though she has returned somewhat better in health, I am afraid we cannot manage any guests. We are in fact reduced to the brief appearances of a daily maid, and could hardly offer the table or other comforts that would justify us in entertaining a young lady.
If it is not now too late, I will do anything I can to assist you in the matter; but I fear term is now close at hand and I must apologize humbly for not writing before. To save you further trouble I have written a note to Miss Tombrock."
This early letter shows tolkien's life in 1936 - which was not easy at all. A letter this early, one year before the publication of the Hobbit is not easy to find and a very nice addition to any Tolkien collection.
Digital photo's available, inquire if interested.
Other Tolkien books available, include both the UK and US editions, original cloth bindings, custom fine bindings, and Signed/Numbered/Limited Editions.

Spread the news about this Tolkien book:

Terms of sale:
Prices are only indications, always inquire if books are still available. We accept Money Orders, cash, or Credit Cards (paypal) for immediate shipping. Checks will delay shipment for 10 days for checks to clear. Please inquire for shipping quotes.
Interested:
Please send email to
info@tolkienlibrary.com
.