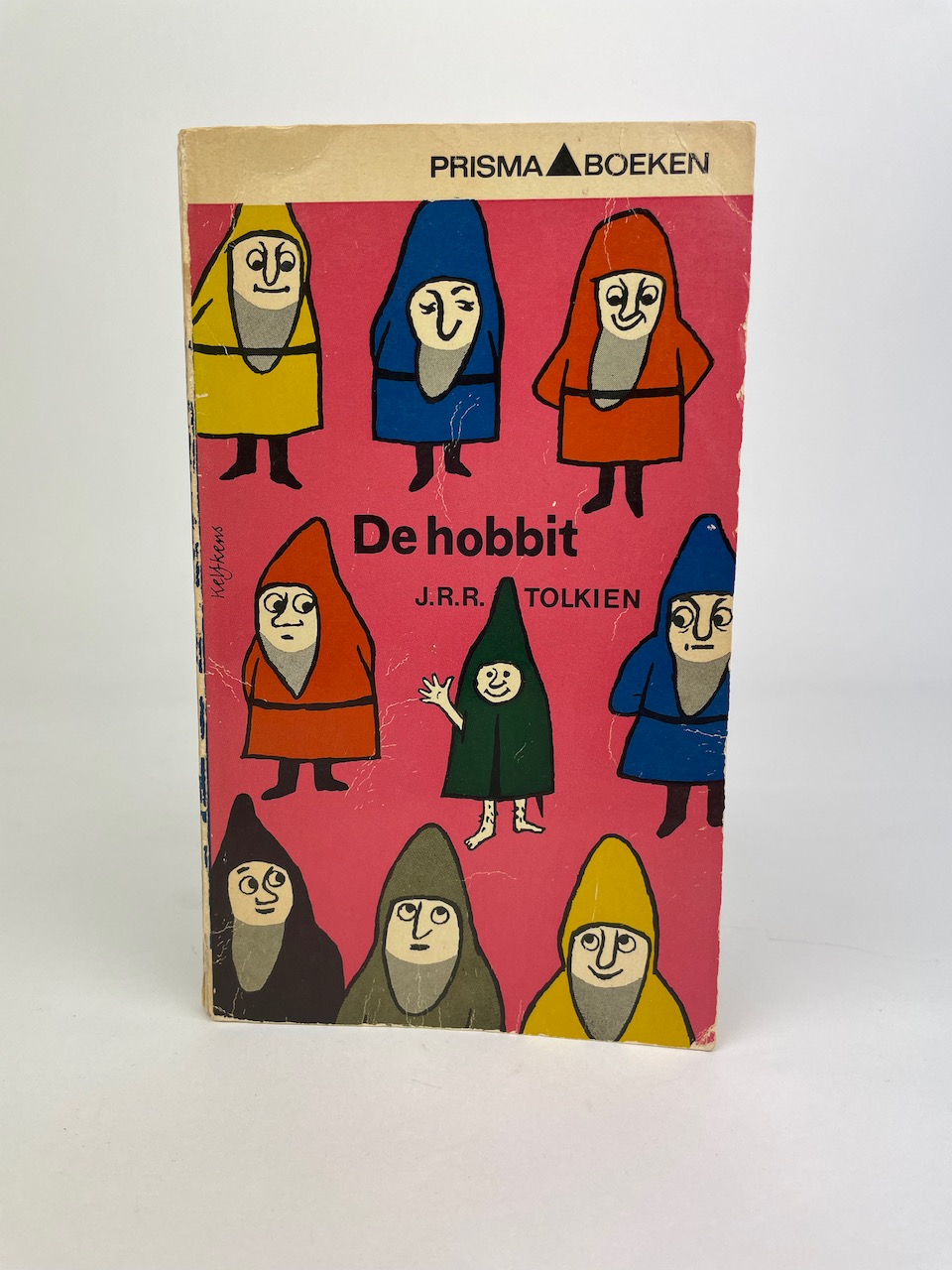 J.R.R. Tolkien's 'De Hobbit,' Dutch Paperback, 6th Printing
Published by Prisma Boeken, First Published in 1960, 6th Printing, 1969
Dutch Edition of 'De Hobbit of daarheen en weer terug' by Max Schuchart, Utrecht/Antwerpen: Het Spectrum.
This copy has been well read, as indicated by a broken spine. However, the cover retains its appeal, albeit with some rubbing to the edges and corners.
A previous owner's signature graces the title page. The text block shows the usual darkening of pages due to age but remains clean otherwise, aside from minor rubbing to some corners.
'De Hobbit' was translated by Max Schuchart and published in Utrecht/Antwerpen by Het Spectrum in 1969 as part of the 'Prisma' series (no. 529). This translation was based on the 7th printing of 'The Hobbit' by Allen & Unwin in 1955.
The book features the same two maps by Tolkien, 'Thrors kaart' (Thror's Map) on pp. [6-7] and 'Wilderland' on pp. [8-9], with place names translated into Dutch and styled to match Tolkien's calligraphy.
At the end, seven unnumbered pages offer a commentary on 'The Lord of the Rings,' including a Dutch translation of a fragment from 'The Breaking of the Fellowship.'
Overall, this is a read good copy, complete with the original jacket design by Cees Kelfkens, making it a valuable find for any Tolkien collector.
Digital photo's available, inquire if interested.
Other Tolkien books available, include both the UK and US editions, original cloth bindings, custom fine bindings, and Signed/Numbered/Limited Editions.
Terms of sale:
Prices are only indications, always inquire if books are still available. We accept Money Orders, cash, or Credit Cards (paypal) for immediate shipping. Checks will delay shipment for 10 days for checks to clear. Please inquire for shipping quotes.
Interested:
Please send email to
info@tolkienlibrary.com
.